Glenn Barber played for Blue Monday during the Good Rockin' Tonight #5 on Saturday the 17th of March 2007 in Saint-Denis-les-Bourg (France).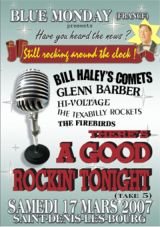 Glenn Barber is one of my favorite C'n'W singers. He has a strong, ample voice which adapts itself to any kind of Country material. He's also an incredibly prolific songwriter and his recording career spans four decades.
It all began on February 2, 1935, when Martin Glenn Barber was born in Hollis, Oklahoma. In his liner notes to the 'Stars Of Texas Honky Tonk' LP (Ace LTD 603 ; 1991), Philip J. Tricker recounts that, when he was 6, Glenn came home crying after being scolded for touching someone's guitar. His father then decided to work hard to present Glenn with that $3.50 guitar which, needless to say, became Glenn's best friend. Glenn gradually learnt how to play other stringed instruments - banjo, bass fiddle, mandolin, steel guitar - and, after moving to Pasadena, Texas, got involved in the local music scene. Apparently, he cut his first record - 'You Took The Twinkle Out Of My Stars' - for the Stampede label in 1952 ; that small record company, owned by Curt Peeples and Willie Jones, was based in Kemah, Texas, and had already issued three '78s by singer/bandleader, Smokey Stover, probably better known to Hillbilly collectors via a clutch of singles on his own Ol' Podner imprint. On his first outing, Glenn was backed by a band named 'The Music Masters' ; also - and this would continue for a few more releases - he was billed as GLEN Barber. Glenn's next two ventures into a recording studio would take place at the famous ACA Studio (Houston, Tx). On June 24, 1953, he took part in a session for Bill Nettles which resulted in two unissued songs for the Trumpet label (namely, 'When My Kitten Starts Cattin' Around' and 'Be Fair With Your Heart'). Then, in 1954, he cut his second solo single ; this time, it was for the Hallmark label and the main song was 'Styles & Ways Of The World'. That disc may have made some noise since a contract with Starday Records ensued.
His first Starday (#166) was a brilliant slab of Hillbilly Bop ; on a personal note, it's the one that turned me on to Barber. The stop-and-go 'Ice Water', with its stompin' bass sound, has all the ingredients of proto-rockabilly - except for a guitar break since the soli are taken by the steel guitarist and the piano player. Truly a memorable side. Its flip, 'Ring Around The Moon', is slower but totally charming ; it's a re-cut of a tune which featured on his Stampede record.
Next came 'Poor Man's Baby (And A Rich Man's Dream)' (#196), most probably derived from the same session as #166 and quite good too ; it was released during the Summer of 1955. A new session produced both sides of his third Starday disc (#214), again both self-penned ; 'Ain't It Funny' is a very fine ballad while the sprightly 'Livin' High & Wide' features more excellent steel and piano soli plus one on fiddle ('I won't stop and I won't steal, as long as I can pay the bill, livin' high & wide' !).
His last one on Starday (#249) came out in Summer 1956, which was quite different from the previous summer. Rock'n'Roll was all over the place and Country artists were having a tough time trying to adjust. However, history shows that most of them were more than capable to handle the new shakin' music ; Glenn of course was no exception to that rule, as a crazy guitar/piano bopper from 1955, 'Atom Bomb', attests (it was first issued by Ace Records in 1986). Likewise, the typically echoey 'Shadow My Baby' is classic, powerhouse Rockabilly with Glenn's assured vocal and Link Davis's tenor sax well to the fore. I have yet to hear the flip, 'Feeling No Pain', but I guess it rocks too !
After Starday, Glenn remained with Pappy Daily, joining the D stable. Several excellent singles appeared, beginning with 'Hello Sadness' in 1958 (#1017) ; the double-tracked vocal made it sound very much like an answer to The Everly Bros' 'Bye Bye Love' - with fiddle, steel and piano added. The other side, the self-penned 'Same Old Fool Tomorrow', was almost a copy of The Cochran Brothers' 'Your Tomorrows Never Come' (Ekko). His best D production probably was 'Go Home Letter' (#1098), a mild but tuneful 1959 rocker punctuated by some amazing picking from guitarist Hal Harris. He would later redo the song while at Hickory.
As the sixties arrived, Glenn went on to record for Sims, Pic and ultimately the Nashville-based Hickory label, after having had a second stint with Starday at some point. He made the charts several times between 1964 and 1971, notably with 'Kissed By The Rain, Warmed By The Sun' (Hickory #1545), a pleasant Gene Thomas composition which kicked off his first Hickory LP, 'A New Star', in 1970. Ain't it funny that Glenn should be billed as 'a new star' some 18 years after his recording debut ?! Well, I know, Dorsey Burnette and countless others suffered the same fate at one time or another. That said, Glenn's Hickory album is very enjoyable even if Country Music had become far more... predictable, shall we say, at that time. But for two cuts, it's all self-composed and produced by Don Gant, who himself had cut several nice things ('High Hoss Baby' for example) on Hickory earlier in the decade. The ballads abound and are real nice but of course, I tend to fancy the uptempo songs ('Don't Worry Bout The Mule', 'My World Is Square' or the Merle Haggard-inspired 'Gonna Make My Mama Proud') a bit more. Glenn also delivers a good version of 'Abilene' (the acoustic guitar intro is terrific as are the dobro parts). It's not as distinctive as the early Starday stuff to be sure but the backings, supplied by Nashville's A-Team (or are these the B- or C-Teams ?!), are flawless.
Longtime fan, Jerry Morris, had this to write about the Hickory years : 'You Only Live Once (In Awhile)' is one of the best songs ever recorded by anyone. I used to go see Glen when he would come to Tampa, Florida to sing at the Imperial Ball Room. They booked him for a week at a time, I was there every night. I loved the special Hank Williams tribute he did on stage, taking the persona of Hank, explaining even down to the way Hank stood stoop-shouldered bending over the mike and the way he placed his feet. Glen would sang song after song of Hank's, explaining a little about when and how Hank wrote them. The only thing wrong with it was, it took an entire set and you didn't get to hear Glen do any of his songs. The song with a line about waking up with the sun shining through pretty purple curtains. Not to mention his great rendition of Mickey Newberry's 'Poison Red Berries' that I still sing for myself. I miss hearing Glen and the other great singers of Country Music. Not what they are calling Country today.'
After Hickory, Glenn had releases on Groovy, Tudor, Century 21, GRT, Sunbird and Brylen - none of which I've heard. But I reckon they can't be bad because an Artist of that magnitude rarely disappoints. And his Starday stuff is sufficient to make me jump or else... 'wash my face in ice cold water' !!
© PAUL VIDAL * Privas, France * July 2002-July 2006