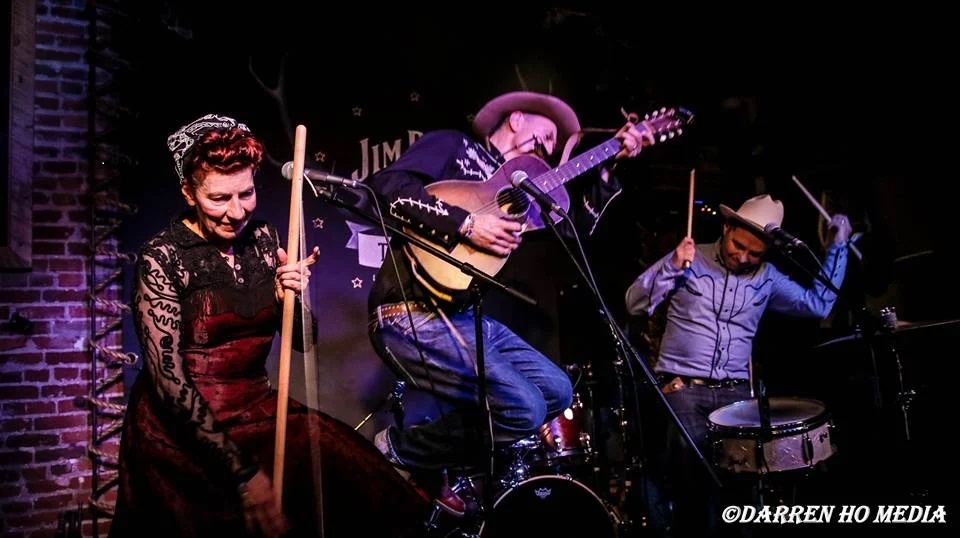 Slim Sandy and the Hillbilly Boppers play swinging Hillbilly Jazz, rockabilly, and rhythm and blues from the 30's to the 50's. Slim sings, plays guitar and harmonica, joined by Willa Mae on vocals, "lonely Mancini" on bass, and Soda Pop on drums.
The band is promoting their new album Rolling and Tumbling.
Since 1980, Slim Sandy has played with various acts, 10 years as the drummer for Ray Condo and the Hardrock Goners, then singer and guitarist in the Crazy Rhythm Daddies, as well as drummer for The Howlin' Hound Dogs.
Slim started playing as a one man rockin' band in 2002, then 10 years later he joined with singer and bassist Willa Mae to form the Hillbilly Boppers in Victoria, Canada, bringing in "Soda Pop" on drums, and "Lonely" Mancini on bass, playing swinging hillbilly bop! Slim Sandy has played festivals such as HIGH ROCKABILLY, ROCKIN HILLBILLY, and SCREAMIN in Spain, VIVA LAS VEGAS and the WESTERN SwINGOUT in the USA, ROCKIN AROUND TURNHOUT, in Belgium, GOOD ROCKIN TONIGHT, in France, the ROCK'N'ROLL WEEKENDER in WALLDORF, Germany, and RED HOT and BLUE, RIFFLANDIA and FERNFEST, in Canada.

Click here to see the video clip : Romp'n'Stomp
Click here to listen: Jump Rope Boogie
Click here to listen : Love Me
Do you want to listen more SLIM SANDY' songs ? Click on each band / artist french page !