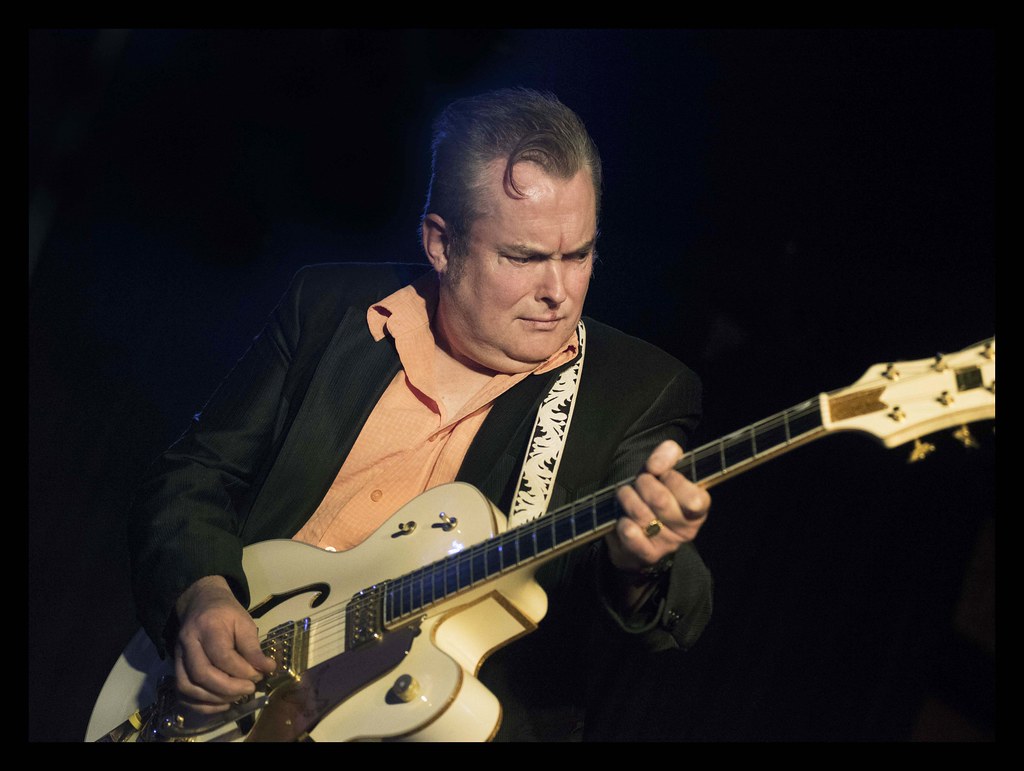 Boz Boorer was born in 1962 he first found fame in his first band The Polecats, formed in 1977,
making 1 album and a few singles, including the cult classic 'Rockabilly Guy'and a cover of David Bowie's 'John I'm Only Dancing'.
The Album 'Polecats Are Go' was produced by Dave Edmunds ,
who also produced the Stray Cats.
After The Polecats split in the early 80s Boz played guitar with the Shillelagh Sisters, a gang of girls who made a couple of singles for CBS records, as well as having his future wife, Lyn, on double bass.
Boz also joined The Deltas and he made a few records with them over 20 odd years.
He then became a producer and made many records. Among them the first Red Hot N Blue LP, he also wrote the title track 'Wait n See'. Another LP he produced was the 'James Deans Of The Dole Queue', featuring a lot of the new Rockabilly Talent.
He then managed Howlin Wilf and the Vee Jays, recording their first LP in his front room.
Boz went over to Holland and produced an LP of Dutch bands - 'Good Rockin Tonight'.
He joined Cowboy Barnes and his Drinkin Buddies, after making 2 LPS, Barney then asked him to produce and play guitar on the new Ronnie Dawson record 'Still-A-Lot-Of-Rhythm!' They played a few shows together in the UK and Europe.
The Polecats also reformed around 1988 and played European Festivals and made a new record for Vinyl Japan - 'Won't Die'.They also went on tour in Japan for the first time.
At this time Boz was working as a recording engineer for Chrysalis Publishing.
In 1991 he started work with Morrissey which would last for 30 years. He also went on tour and recorded with Adam and the Ants around 1992.
The Polecats continue to play shows around the world.
He now runs a record shop with his mate Brian in Portugal, where he lives.

Click here to listen : Shake Um Up Rock
Click here to listen
: El Camino