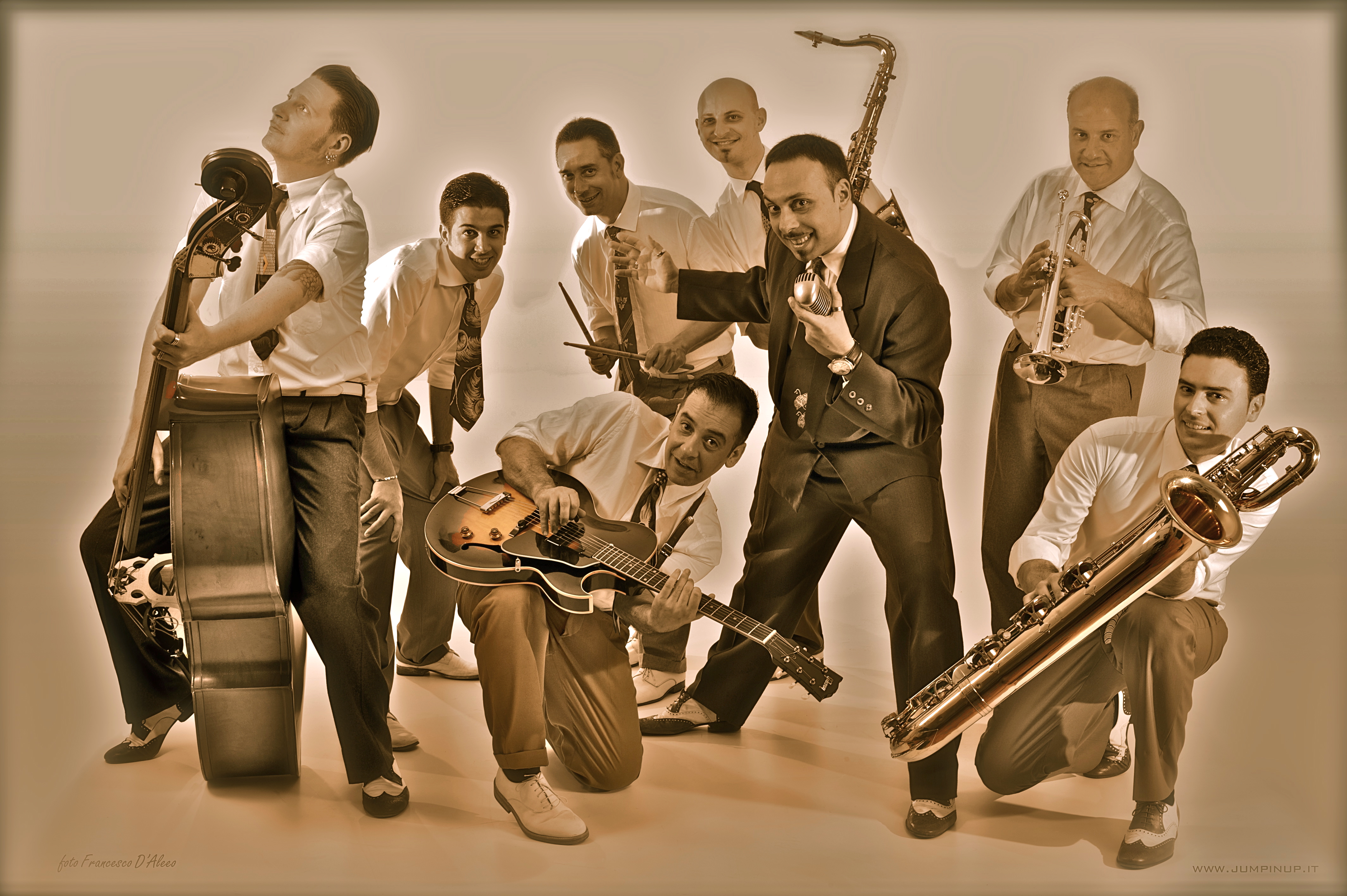 Jumpin'up is an "All Sicilians" eight pieces Jive and R&B band, born in the winter of 2005 with the attempt to recreate the warm sound of the 40's and 50's.
Each player comes from different music styles kinds like swing, jazz, blues and rock and roll, but alltogether they melt their influences in the explosive mixture of swing and jive in the style of the italo-americans crooners of the 50's.
The warm voice of Tony Marino, the jump-blues guitar of Giuseppe Montalbano, the rockabilly style of the double bass player Andrea Di Fiore, the dragging shuffle of Michele Virga, supported by Claudio Guarcello on piano, Raffaele Barranca on Tenorsax, Angelo Trento on Baritone sax and Nicola Genualdi on trumpet drive them in a mixture indeed particular.
By now, the band has realized two albums,two videoclip, and played in a lot of the most important festivals around Europe.
Their music is draft from the repertorio Blues, Swing and Rock&Roll but above all from 50's Jive that just in those years it was going developing a new rhythm. Their main reference are Louis Jordan, Louis Prima, Sam Butera, Wynonie Harris, Roy Brown but also the Italian Renato Carosone (Napoli style swing) and Fred Buscaglione (the Italian good – hearted gangster).
The Jumpin'up show has a funny atmosphere of old
Italian-American taste.
Click here to see the video clip ... Swing It Again !
http://www.youtube.com/watch?v=DeYvtgo--Ds
Click here to listen : Swing It Again
Click here to listen : Prima's Medley
Click here to listen : Feeling Happy
Do you want to listen more JUMPIN ' UP songs ? Click on each band / artist french page !