m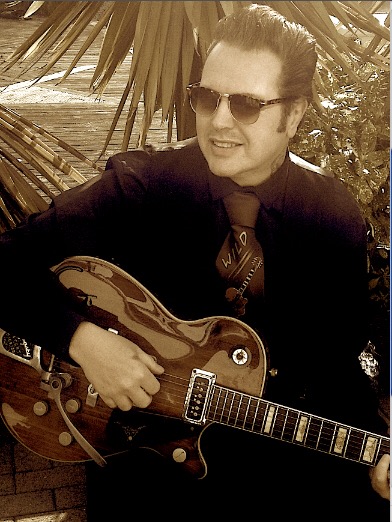 Sonny taught himself guitar at the age of 15, and only just over a year later, he auditioned and was chosen to Lead guitar player for the West End musical and played with Elvis's original Band including scotty Moore The Jordanaires DJ Fontana as part of the forever Elvis music .He toured the world and made some TV appearances.
Sonny left the show to pursue his career as a solo artist. Sonny formed his own band at the age of 18; Sonny West and the Rhythm Kings. He wrote and arranged all the music.
One year later he started record label Crown Records and issued his first release Mr Wild Guitar. It was the fastest selling independent UK album released that week and sold out on pre-orders, now considered a collectors item. Sonny did gigs in the UK and across Europe and America and went to New York backed by the Quakes, he then returned and continued to play live UK to Europe and USA. At the age of 20, he was then managed by Tom Ingram and played along with all the rock 'n' roll greats at the Wembley rock n roll stage show. With that success he was the only artist to be asked to play the second one rock 'n' roll show the following year. Sonny toured and played guitar with Fats Domino and recorded two albums with Linda Gail Lewis, and went to play guitar for the big town playboys and recorded an album with them. Sonny played guitar for the Metrotones.
Whilst continuing to gig with Sonny West and the Rhythm Kings appeared internationally with people like Ronnie Dawson Charlie feathers Ronnie Dawson and most of the original pioneers of rock 'n' roll music in the UK and Europe.
In 1990 Sonny then signed to Nervous Records and recorded his second album with Roy Williams and Eastern Stars records producer Alan Wilson. In 1991 Sonny West and the Rhythm Kings split before the release of the second album to concentrate on his career as a songwriter and became a session guitar player.
As a session guitar player, Sonny started working on different projects with the top producers including Cameron Craig, who was producing Tina Turner's album prolific songwriter and has written TV music film.Sonny also taught jazz at the Islington Arts Factory. Sonny then started the Voodoo Vendors and went on tour with Lonnie Donegan and played all the major blues festivals in the UK and Europe. He played and toured with Gino Washington, Sir Bob Geldoff and the Blockheads amongst others.
Sonny then put his music aside to concentrate on business as an entrepreneur. He opened a successful champagne bar and also a music restaurant in the heart of Camden Town featuring artists like Amy Winehouse and James Hunter and many more touring international states. Also liaised with TV a.m. Organising conducting interviews with Touring artists. Following that success he became an entrepreneur, he opened restaurants and champagne bars and restored and build properties and built a portfolio and owns commercial and residential property in London. Sonny owned a vintage motorcycle shop in London where he restored and repaired classic and vintage motorcycles. He worked with the science museum On old British and American motorcyles, restoring and shipped motorcycles of historic interest all across the world.
Sonny then started a new musical project called the Congo Faith Healers where he writes and performs all the music. The Independent newspaper list them as the top act to see when visiting London
the royal Albert Hall asked them twice to play and in Trafalgar Square to close in the West End live festivals
they will also voted The BBC gods juke box as band of the year They play all around the world and toured with with Katie Tunstall, Razorlight and are currently working with Rolling Stones producer Chris Kimsey.
Sonny has his own studio and is currently semi retired and lives with his children at his home seaside town in the UK.His hobbies are motorcycles and his guitar collection. He privately owns some of the rarest Gretsch guitars on the planet.He is a self made millionaire but has not lost his working class sensibility.
In May this year Sonny went back to his roots with the new rock 'n' roll album, his first one in 26 years, which he has written and produced in Hollywood California USA for Wild Records. He will be headlining and performing worldwide including the biggest rockabilly festival on the planet on the Friday night in Las Vegas. Sonny is keeping busy in the studio, recording and writing and he will be out touring in 2018.