LINE UP
SIMONE DI MAGGIO – guitar & voice
DANIELE TORRINI – double bass
LORENZO COTROZZI – drums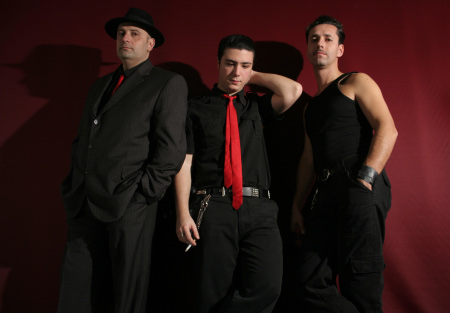 This band was born in the summer of 2002 after the meeting of three export musician of the Italian rockabilly scene. This wild combo mix many influences: Rockabilly, Surf music, Hard stuff Rock'n'Roll, Country Rock…… Leader of "The Astrophonix" is the young guitarist Simone Di Maggio. This guy plays in many parts of Europe and in the best music clubs and Rock'n'Roll festivals like: SUMMER JAMBOREEE 2002 (I), BLUE MONDAY FESTIVAL 2003-2005 (FR), ROCKHOUSE PLANET FESTIVAL 2004 (FR), MILWAUKEE CONFIDENTIAL 2001 (I) and THE EDDIE COCHRAN WEEKENDER 2004 (Chippenham – UK) where Simone and the Astrophonix opened the concert of the legendary Little Richard. John Knight (the organizer of this great event) says: "Best guitarist of this edition is Simone Di Maggio, and the best bands are Little Richard, The Comets and The Astrophonix". This guy backin' the "fabulous" Charlie Gracie too. Simone recorded his first cd in 2001 (Everybody's Movin' – Whampire Rec.) and an original song from it (Milkshake Boogie) was chosen for the opening track of the most important Rockabilly web site in the world: www.rockabillyhall.com. Other songs like the Simone's version of Rock'n'roll ruby, are included in the prestigious compilation of the Rockabilly Hall of Fame Vol.3. In 2003 The president of the Rockabilly Hall of Fame Bob Timmers gave to Simone and his album Everybody's Movin' the Kiss of approvation like one of the best Rock'n'Roll album of the last years and he says: "Simone is an example for all young rockers and all young musician in the world". In 2004 Simone's Milkshake boogie is included in the compilation "The Best from The Best" with many legends like Billy Swan, Wanda Jackson, Narvel Felts and many More… Other important step of the carear of this band in novembre 2005. The guys play before one the concerts of the Italian tour of the band who started in the 80's to the Psychobilly…. The Meteors.
The other members of the Astrophonix are:
Daniele Torrini – Double Bass. This guy play in many Italian Rock bands in the 80's, and he touched the fame with a really famous Italian band call "Dirotta Su Cuba" and he wrote the hit "Gelosia" played in many radio and TV shows. In 1988 Daniele start to play Rockabilly after the meeting with Marco Di Maggio and for 5 years he play in all Italy with him.
Lorenzo Cotrozzi – Drums. Lorenzo is a very versatile drummer. He start to play in many beat and rock'n'roll bands of the Florence underground scene. He's stile is so various, he play with great energy all that styles coming from the hard stuff rockabilly, and he has a great vintage sound from surf-beat
IN THE SAME STAGE WITH

LITTLE RICHARD (opening act at Eddie Cochran Weekender 2004)
THE COMETS
THE CRICKETS
THE METEORS (opening act in the Italian tour 2005)
ALBERT LEE
CHARLIE GRACIE (The Astrophonix backin' Charlie in Chippenham 2004)
RUDY GRAYZELL (Simone, Lorenzo & The Thunder Twins Backin' Rudy in
Bourg en Bresse in 2005 with Marco Di Maggio)
HAYDEN THOMPSON (Simone backin' Hayden in 2003 and 2005 in France with Marco Di Maggio)
WANDA JACKSON
D.J. FONTANA
And more…

BEST APPEARENCES

MILWAUKEE CONFIDENTIAL – ITALIA – 2001
SUMMER JAMBOREE – ITALIA – 2002
BLUE MONDAY FESTIVAL – BOURG EN BRESSE - FRANCE – 2003/2005
SURFER JOE SUMMER FESTIVAL – ITALIA - 2004
ROCKHOUSE PLANET FESTIVAL – PARIS – FRANCE – 2004
EDDIE COCHRAN WEEKENDER – CHIPPENHAM – UK – 2004